Discover what's possible on a bike. We carry bikes that will take you Downtown and out of town, around the neighborhood, and around the world. Bikes for where pavement ends and adventure begins, bikes you can pack in a suitcase and take on a plane, bikes for anywhere you want to go.
Let us help you find a bike that will fit your body and your lifestyle, delight you, offer you years of enjoyment, and make you want to get out there!
"We carry bikes that will take you Downtown and out of town,
around the neighborhood, and around the world."
YUBA CARGO BIKES BACK TO SCHOOL SPECIAL
Move over, school bus! Now it's easy (and more affordable) to extend your car-free lifestyle well into the Fall months. Carry your kids, cargo, even the family dog! We have a full selection of pedal-powered bikes from Yuba, including:
Full-size Mundo and Sweet Curry

Compact Boda Boda

Front-loading Supermarché

Kids' tiny cargo balance bikes

Yuba Electric available by special order.
And, for a limited time, you can add $300+ worth of add-ons for FREE with selected Yuba Bike models.
GoCycle Electric is here!
From the company that set out to make the best electric bicycle in the world comes the GoCycle GS: the first injection-molded magnesium alloy bicycle in history. Lightest in class, environmentally sustainable and stylish with on-demand electric power, Gocycle is a joy to live with and to ride. PLUS! It folds down compactly for storing in your home or traveling in your car.
Could a Brompton fit into your life?
The ultimate in versatility and flexibility, Bromptons seamlessly interact with other modes of transport, and open travel, storage & security options unavailable to standard bikes. They are precisely engineered to fit into the tightest schedule and the smallest space, and provide fast, reliable transport wherever you may find yourself.
We are your local, full-service Brompton resource.
Whether you're buying a brand new custom Brompton, or need service, uprgrades and repair on an existing one, we'd be delighted to share our expertise with you. We own Bromptons, love them, and ride the heck out of them. You will not find any shop in Chicago area with more experience setting up new Bromptons or servicing older ones. Our staff have helped hundreds of customers with their Brompton purchases and repairs. Every Brompton we sell goes through a rigorous assembly procedure, including our 12-Point Checklist. PLUS, we offer FREE delivery & set-up in the greater Chicago area with your new Brompton purchase.
Everybike
We're not here to tell anyone what kind of cyclist they should be, but we love exploring what they could be. Any person who rides a bicycle is a cyclist. And any bike -- really -- virtually any bike in decent state of repair can be a commuter bike, a cargo bike or an adventure vehicle. Yes, there are highly specialized bikes that will do all those things, and we can get them for you too. But not everyone has the budget, the space or the dedication to maintain a fleet of function-specific bikes. We'll work with a bike you already have, or a new one of your choosing, and, with a few well-chosen accessories, we'll help extend its usefulness and change its personality, depending on whether you're riding to work, shopping, hauling gardening supplies, enjoying a weekend with your kids, or going off on a solo trip away from the city.
One Bike, Many Personalities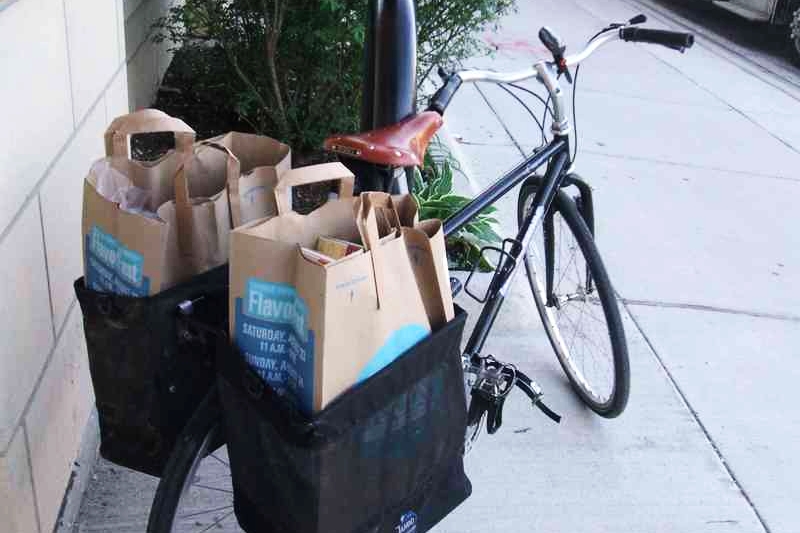 Complete Bicycle Service & Repair
Our technicians are professionals with decades of bike service experience under their belts. While anyone can grasp the basics of bicycle repair, true expertise in this field, as in any highly specialized trade, comes only through years of work and hands-on experience. Our mechanics have honed their skills at some of the most respected and demanding repair shops in Chicago, making our Service Department second to none. We adhere to the highest standards of quality, both in bicycle repair, and in out-of-the-box assembly of new product.
Cargo & Electric-Assist Options: Available now for purchase or pre-order. Come in for a test ride!
NEW! Copenhagen wheel
Electrify your existing bike. Call for more info.
Yuba Cargo Bikes
Full-size & compact cargo for passengers & big loads.
Faraday Electric bikes
Stylish & efficient way to get around town.
Blix Electric & Folding bikes
Full-size & folding eBike options at a great price.